Director Harpreet Kaur shares her journey into the world of filmmaking — early memories of her love for the lens, her fascination for storytelling and how that eventually shaped her career as a documentarian and filmmaker — with Flickside. Her two prominent works – The Widow Colony and A Little Revolution have earned her much recognition at festivals abroad, aiding her pursuit of bringing minority issues into the mainstream media.
The first time I looked into the lens and pressed the record button, I became a storyteller!
I was only 12 years and my newest toy was the old school RCA VHS camcorder.
My actors were my siblings and the world was my canvas!
It was an exhilarating feeling to imagine and to be able to create anything — all with the press of that one red button.
My parents bought a camcorder to capture our family vacations. But that wasn't the only time the camera was used.
Our basement became our studio and my brother, sister and I produced our very own talk show, sitcoms and dance videos on a regular basis.
I played many roles from directing, acting, operating the camera to being the talk show host.
Storytelling came to me naturally.
At every sleepover, I was the dedicated storyteller.
I could go on for hours creating interesting characters and plots — making it all up as I went along.
My fascination for life, the people around me and their stories is what inspired me to become a filmmaker.
There was no particular film or director that drew me to this work. I grew up creating my own videos more than actually watching movies.
As a child, the extent of my exposure to television was limited.
I can pretty much count the English movies that I grew up watching on my fingers.
As a family, we watched Hindi and Punjabi movies, but the highlight for my parents was always watching the videos we created and sharing them with everyone who came to our place.
It was always so embarrassing!
Those VHS tapes are now stacked away in a cardboard box which hasn't been opened for years.
Now that I look back, it would be nice to share them with the next generation. I don't think I would be embarrassed anymore watching those videos.
In fact, I'd be proud because I value and understand what it means to be a filmmaker — the hard work, love and dedication it takes to create and entertain viewers.
My passion to share stories reflects in the films that I've created.
Though I've worked on several short documentaries, my debut feature film The Widow Colony – India's Unsettled Settlement was an eye opening experience as a young filmmaker.
The physical, emotional and logistical challenges that I faced with a limited budget, two-person crew and the dangers that came along with highlighting these stories is what put my abilities as a filmmaker to the real test.
The next documentary that I embarked on, A Little Revolution – A Story of Suicides and Dreams was just as challenging if not more so, despite having a talented and experienced crew, because we were working in the rural villages of Punjab with young kids that were sharing heart-wrenching stories for the first time on camera.
Both these documentaries addressed issues that are not openly talked about in India due to the fear of being victimized further.
The stories of survivors, minorities and victims of State sponsored violence are buried along with their loved ones.
Therefore, as a filmmaker, giving these survivors a platform to share their stories was very important to me.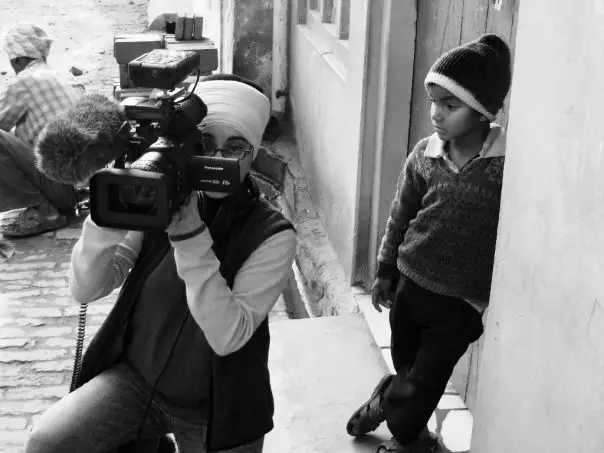 Throughout this journey, I've been lucky to have Manmeet Singh, my husband and producer along my side.
His partnership has been instrumental in getting me through the toughest moments in production.
I was prepared for the technical challenges associated with the occasional power cuts which led to lighting concerns during production, charging batteries, dealing with downloading footage and backing up hard drives at the end of the day.
What I had not accounted for was the mental toll the work would take on me.
Day after day, listening to women and children sharing their stories was difficult.
I recall crying myself to bed every day for weeks.
During production, hearing the stories was a surreal experience.
It wasn't until I'd lie down at night, that the enormity of what I'd heard and experienced really came to life.
I felt helpless, weak and drained at the end of the day, but come the next morning, I was back in the field.
In the case of both these films, it was the strength of the women and children that kept me going. I drew inspiration from their courage, resilience and love.
They embraced me and shared stories that they had never talked about before. It was a therapeutic experience for all of us.
Making a movie of any genre goes beyond your technical skills as a filmmaker. It requires passion, patience, perseverance and a past that connects you to being a storyteller.