From Act of Valor (2012) to Zero Dark Thirty (2012), these are the best Navy SEAL movies.
The United States Navy SEALs (SEa, Air, Land) are an elite special operations force within the U.S. military. They are trained to operate in a variety of environments, including land, air, and sea, and are often involved in highly classified and dangerous missions to protect national security. 
These elite superheroes have frequently been portrayed in Hollywood, at times with creative liberties. Most of the greatest Navy SEAL movies are entirely fictional. Occasionally, however, they do depict true incidents. From war dramas to espionage thrillers, they show Navy SEALs carrying out high-stake missions involving intense combat and activities, both physically and mentally grueling. But whether they're inspired by true events or purely fictional, these films pay tribute to those who bravely defend the nation by endangering their own lives everyday.  
Quickly then, here's our ranking of the best Navy SEAL movies:
Best Navy SEAL Movies, Ranked
15. The Rescue (2021)
The Rescue is a thrilling documentary that narrates the motivating tale of the rescue of twelve boys from the junior soccer team and their coach from a submerged cave in Northern Thailand. Their chances of survival are slim because not even the Thai Navy Seals have been able to save them. That is, until a couple of middle-aged Britons show up. 
Filmmakers Elizabeth Chai Vasarhelyi and Jimmy Chin keep us engrossed, recreating scenes that exhibit human resilience in the face of crisis. Juxtaposing scenes where the oxygen level in the cave is dipping with those of the rainfall raging outside the cave, they keep us on the edge of our seats.
14. Seal Team Six: The Raid on Osama Bin Laden (2012)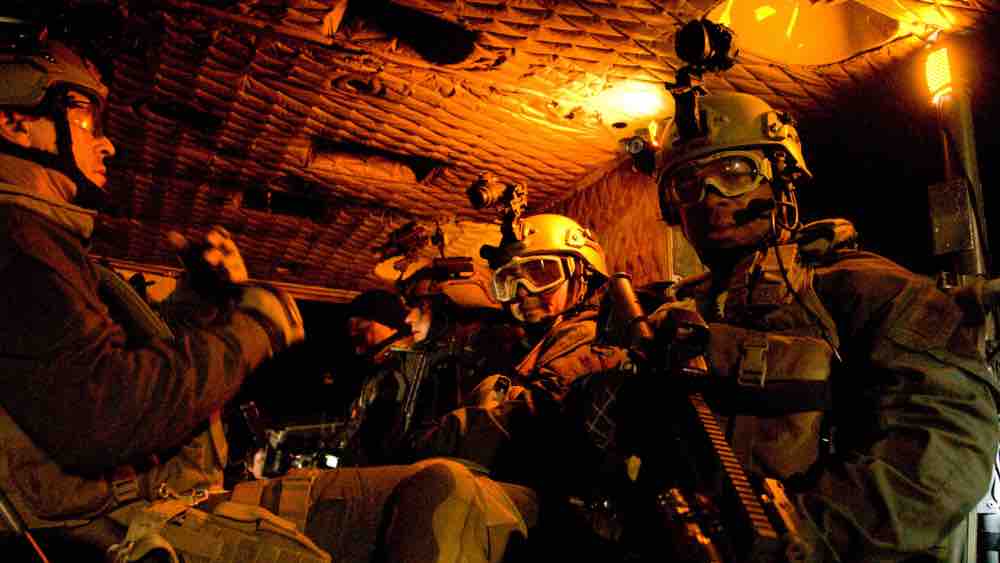 The narrative unfolds in May 2011 when a skilled group of U.S. Navy SEALs raid a Pakistani stronghold and bring closure to the extended search for the most wanted terrorist in the world. Produced by Harvey Weinstein, the documentary gives us a gory portrayal of a pivotal event in the fight against terrorism.
Directed by John Stockwell from a script by Kendall Lampkin, the narrative makes use of several techniques such as direct-to-camera interviews with characters, news-program style, and interview snippets with President Obama to lend it authenticity.
13. Act of Valor (2012)
A Navy SEAL team embarks on a worldwide manhunt after its most recent mission reveals a deadly terrorist plan against the United States. As they follow the terrorist network to the border between the United States and Mexico, every new piece of information they receive unfolds a devastating plot twist.
Producer-director duo Mike McCoy-Scott Waugh employ a variety of camera angles to create moments of extreme thrill and suspense. While the action scenes amply demonstrate the film's positive qualities, the attempt at drama and character development are unquestionably its weaker aspects.
12. GI Jane (1997)
Senator Lillian DeHaven (Anne Bancroft) exerts political pressure on the U.S. Navy to start a programme that would allow for the integration of women into its forces. Lieutenant Jordan O'Neill (Demi Moore), selected expressly for her femininity, is put in charge of the grueling training programme by John James Urgayle (Viggo Mortensen).
G.I. Jane is a terrific action-drama film directed by Ridley Scott, starring Moore as the first female Navy SEAL trainee. The film follows her character as she fights to prove that women are capable of serving in combat roles in the U.S. military.
11. Hunter Killer (2018)
Donovan Marsh's thriller narrates the investigation led by Commander Glass (Gerard Butler) when a submarine mysteriously vanishes in the Arctic ocean. While Glass is trying to determine what happened to the lost submarine, a Navy SEAL squad monitors a Russian submarine they believe may be connected to the missing American submarine.
The movie features a fair bit of slick, gory violence, particularly in the sequences that follow a squad of Navy SEALs conduct a raid on a Russian base. However, the film's characters don't seem to interest the director as much as submarines do.
10. Tom Clancy's Without Remorse (2021)
After a group of Russian soldiers murders the family of Sr. Chief John Kelly (Michael B. Jordan) for his involvement in a top-secret operation, Kelly hunts down the assassins. But his mission accidentally exposes a hidden operation that might potentially escalate the conflict between the U.S. and Russia. 
Director Stefano Sollima does a good job staging action scenes to maintain momentum and thrill while engaging us in the screenplay. Michael B. Jordan's powerful performance and fast-paced action sequences hold up the film.
9. 13 Hours: The Secret Soldiers of Benghazi (2016)
The story unfolds September 11, 2012, as Islamic terrorists attack the American consulate in Benghazi, Libya killing some senior officials. Consequently, Members of the Annex Security Team, consisting of six ex-soldiers, are stationed less than a mile away from the consulate. They engage the terrorists in a brutal firefight as the assault goes on in an effort to save the remaining Americans trapped in the embassy.
It's a gripping, devastating war thriller that gives us a genuine account of what transpired that night. While director Michael Bay maturely handles the film, it doesn't quite live up to its fact-based subject.
8. Tears of the Sun (2003)
In Tears of the Sun, Nigeria's government has been overthrown, and civil war is about to break out. Dr Lena Kendricks (Monica Bellucci) must be rescued from the Nigerian forest by a group of soldiers under the command of Lt. A.K. Waters (Bruce Willis). When Waters and his team find Kendricks, she tells them she won't let the rebels kill her helpless patients. As the team sides with Kendricks and makes an attempt to march the refugees to safety, they draw the wrath of both American and Nigerian forces.
It's an exciting, thought-provoking film that tackles significant issues and makes a stern assessment of contemporary combat procedures and morals, helped by Willis and Monica Bellucci's strong performances.
7. Under Siege (1992)
By impersonating members of a rock band, terrorists get themselves hired for a party on the USS Missouri, a battleship headed to Pearl Harbor for decommissioning. They intend to take the ship's nuclear armament. But their devious plan is obstructed by the presence of the ship's chef, a decorated former Navy SEAL, played by Steven Seagal.
Under Siege boasts two gorgeous baddies, portrayed by the consistently entertaining Tommy Lee Jones and Gary Busey. Seagal is fascinating as the unstoppable lead character. Overall though, the action film could've been better had the plot been exploited to its fullest.
6. The Rock (1996)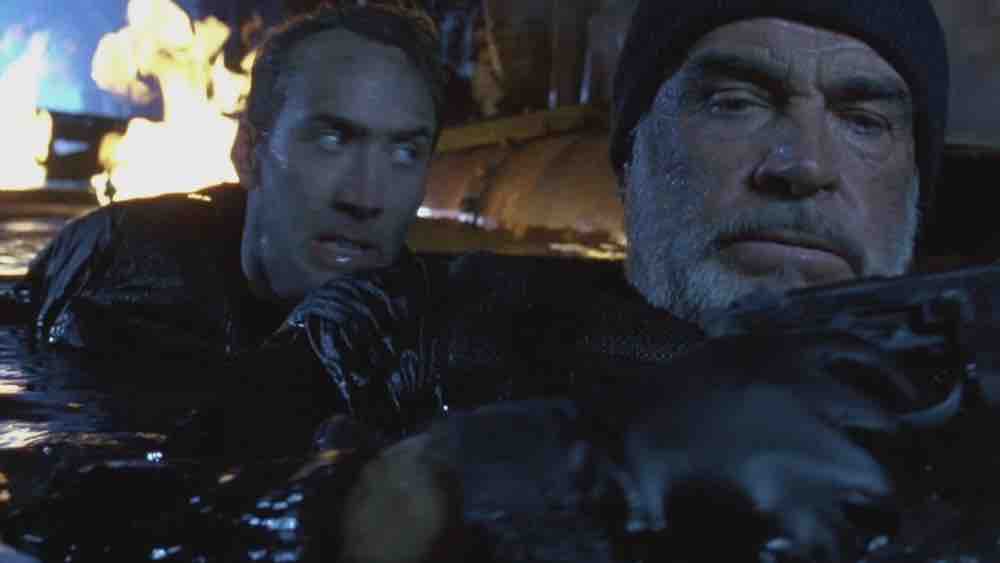 In Michael Bay's popular rescue drama, Gen. Francis X. Hummel (Ed Harris) threatens to launch chemical weapons from Alcatraz Island onto San Francisco if he does not receive $100 million from the government. So FBI chemical warfare expert Stanley Goodspeed (Nicolas Cage) and ex-British agent John Patrick Mason (Sean Connery) are dispatched on an urgent mission to stop him. On their arrival, all the members of the SEAL squad are killed. Now, Stanley and John are the lone survivors who'll have to confront Francis' team to stop the havoc.
Bay's stylish action sequences draw us into the story with admirable ease. Cage's performance finely balances dark comic timing and acute empathy. Connery proves he's the epitome of bravery even at 65.
5. American Sniper (2015)
In Clint Eastwood's psychological war drama, Chris Kyle (Bradley Cooper), a U.S. Navy SEAL, trains himself to become one of the most deadly shooters in American history. He endured four tours of service in Iraq despite the extreme danger of the war zone. But when he returns home, he struggles to be a good husband and a caring father. Soon, he discovers that the battle has followed him home.
The plot is blatantly biased towards supporting the righteous stance in favor of war. Charisse Cardenas and James J. Murakami's production design, Tom Stern's cinematography, and Joel Cox and Gary Roach's editing help give the film a sense of realism.
4. Lone Survivor (2013) 
In 2005 Marcus Luttrell (Mark Wahlberg) and his group of Navy SEALs travel to Afghanistan on a mission to kill Taliban leader Ahmad Shah (Yousuf Azami). Despite being seen by goatherds, Luttrell and his group opt not to murder them. This turns out to be a grave mistake and the SEALs are mercilessly attacked by Taliban fighters.
The fight scenes offer a window into the very heart of the conflict. Graphic and violent, they test the boundaries of human endurance. The film does a great job capturing the lethal anxiety and pressure endured on a battlefield.
3. Captain Philipps (2013)
In April 2009, as the American container ship Maersk Alabama was sailing toward its destination through the Guardafui Channel to Mombasa, Kenya, Somali pirates attacked the ship. Richard Phillips (Tom Hanks), the ship's captain, tries to defend his crew from the hostile invaders and their commander Muse (Barkhad Abdi).
Paul Greengrass directs Captain Phillips with a dramatic intensity that expertly balances the impending threat of deadly violence with a cinematic flair. He successfully crafts realistic characters from real life who deliver some of their best performances. 
2. The Abyss (1989)
In James Cameron's underwater thriller, formerly married petroleum engineers Virgil (Ed Harris) and Lindsey (Mary Elizabeth Mastrantonio) are chosen to help Lt. Hiram Coffey (Michael Biehn) from the Navy SEAL with a top-secret recovery operation after a nuclear submarine was mysteriously ambushed and sunk in the world's deepest oceans.
This logistically challenging and technically outstanding film is ambitious and visually stunning, with some of the best underwater scenes ever captured on camera. As the laid-back yet brave rig foreman, Ed Harris is solidly cast, while Mastrantonio is incredibly convincing as his rigid but bright wife.
1. Zero Dark Thirty (2012)
The film tells the story of the hunt for al-Qaeda leader Osama bin Laden, following the September 11 attacks. We follow CIA operative Maya (Jessica Chastain), a key player in the search for bin Laden, who works with a team of intelligence analysts and U.S. Navy Seals to track him down.
Kathryn Bigelow's Academy Award-nominated procedural drama is accentuated by stunning editing and gut-wrenching fight sequences. Bigelow shuns traditional character development, using the primary character as an allegory of American law and order.
Conclusion
The popularity of these films have increased significantly over the last century after the enormous success of Lone Survivor and American Sniper. Sadly, despite appeasing the crowd-puller trend, relatively few Navy SEAL movies have been made. Probably because the numerous books and movies around them are still met with strong hostility inside the SEAL community. What are your favorite Navy SEAL movies? 
Dipankar Sarkar
FTII alumnus and freelance writer. My articles have appeared in Scroll.in, The Hindu, Livemint.com, The Quint, The Tribune, Upperstall, among other publications.