Attention, film buffs! Flickside, in association with the New York Indian Film Festival (NYIFF), brings you a chance to meet the likes of Konkana Sen Sharma, Rahul Bose, Deepa Mehta, Onir and Adil Hussain. Participate in #FlicksideNYIFF2017 'write and win' contest and you could win two free passes (worth $250 each) to attend the NYIFF 2017!
The 17th annual film festival to be held from April 30-May 7, 2017, will screen over 40 films in the week-long extravaganza.
How to win:
Tell us about the one 'film' that changed your 'life' and why, in 100 – 300 words. Send in your answers to info@flickside.com. Two best entries will win a Festival pass each (worth $250) to the prestigious New York Indian Film Festival 2017. The free passes give the 2 winners access to the entire 1-week film screenings from India and other South Asian countries in 7 regional languages.
The Festival pass gives you:
1. Access to 40 plus films (features, shorts, documentaries) playing at the festival.
2. Includes all regular screenings and special events, Centrepiece and Closing Night screenings and parties!
3. Access to your favorite directors/actors at the festival!
4. You'll even get to be part of QnA sessions and discussions with the directors and cast, post the film screenings.
Some of the films screening at the festival include Rajkummar Rao's Trapped; Konkana Sen's directorial debut A Death in the Gunj; Adil Hussain's Mukti Bhavan, one of the best films of 2017; Priyanka Chopra's National Award-winning film Ventilator.  Here are all the 44 films playing at the New York Indian Film Festival 2017.
This is a once-in-a-lifetime opportunity for not just watch quality cinema (released and unreleased) but to get access to your favorite directors/actors. The contest closes April 26, 2017.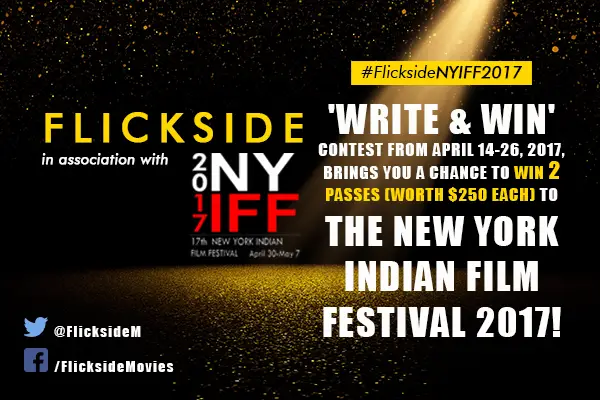 Winners will be announced on April 28, 2017 on Flickside's Facebook page. The best answers will be published on Flickside with due credits.
Terms & Conditions
The T&C apply to everyone who takes part in the contest. By participating, you imply that you have accepted all the T&C and the final decision by NYIFF/Flickside.
1. The contest is open to anyone above 18 years of age.
2. Flickside reserves the right to use the content received through contest entries.
3. NYIFF reserves the final right to choose the winners.
4. The winning passes are not transferable/encashable.
5. The decision of NYIFF will be final and binding.
6. Relatives and employees of Flickside and IAAC/NYIFF are welcome to participate in the contest but will not be eligible to win.
7. *Note that the $250 Festival pass does not include entry to the opening night of the festival on April 30, 2017.
Don't forget to spread the word among your friends/film buffs in New York (or close by) 🙂